Last night I was out in the garden checking for beetles (more on that later) when I saw a tiny spider traversing between a cauliflower plant and a stick I'm using to tether a growing pepper plant. Anyway, this spider, it was traversing on a line of webbing, and it was carrying what I thought at first was a fly. On closer inspection it turned out to be a shiny droplet of water, like those that collect on the edges of some leaves at night as the air cools. It was carrying a droplet of water! When it got to the stick, it perched near the tip and sat still with the droplet, and as I watched, the droplet slowly grew smaller. Did you know that spiders did this??! I did not know that spiders did this! Carry water droplets?
Watch, observe, question, and get your mind blown every day!
In a bit of quick research, I haven't been able to find out if this is common or not (I assume it is, and I've just never seen it) as a spider behavior. I know some spiders carry bubbles of air underwater, and lots of bugs use surface tension to their advantage… but it never occurred to me that spiders might do this, even though I know that some spiders need water beyond what they get through their prey. Some drink from puddles, others drink when they consume their webs in the morning with dewdrops on, and some drink from dewdrops. It makes perfect sense that a spider might take its drink to a safer location, but I didn't know, and wow, neat.
It might be like that time I was walking through a graveyard at night and saw hundreds of worms sneaking out of their holes, stretching, reaching for each other. I thought, whoa! I didn't know about this! How cool is this! What if I've discovered a new behavior?!?
And then I thought, oh. Earthworms. Nightcrawlers. Right.
But it was still a cool experience!
…
So, that was neat. But then I had to get back to my now nightly routine of beetle-hunting.
I planted our garden 3-4 weeks ago. Cucumber bushes, capsicums of different types, cauliflower, zucchini, an heirloom tomato, and some strawberries. These will all go very nicely with the forest of basil I'm cultivating in containers. I also have a small patch of oregano and thyme in there, but the basil gets to rule the place because, c'mon, duh. There's feral rosemary growing by the back shed.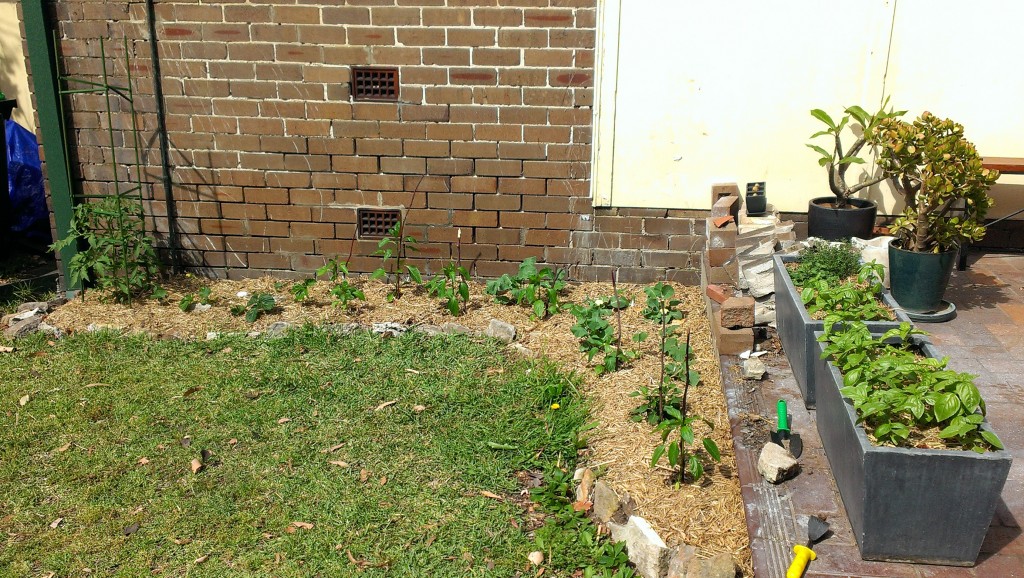 Our strawberries were doing well! We got two delicious berries from the largest plant. And then the flowers died. And some leaves fell off. The hell? It looked like the stems were being broken by something. No hail… no violent raccoons… And then some leaves developed holes. Aha! Bug attack!
I've patrolled for slugs and snails and seem to have conquered that problem, so this must be something new.
Ben went out that night to take a look and reported a couple of beetles. I took a vial out and came back inside with 20 or so tiny shiny obnoxious beetles that I was really quite unhappy about. They weren't easy to see because they liked to perch just underneath leaves and quickly fell down into the mulch when disturbed. There seemed to be two similar but different types of beetles.
A bit of research and lots of looking through my watch glass led me to tentatively identify the less common type as Strawberry Root Weevils.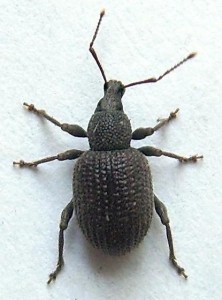 The other, more, shall we say abundant (teeming? seething?) type I think is the Strawberry Rootworm. They're shiny, whereas the others are dull. They have shorter snouts. They are both really freaking annoying.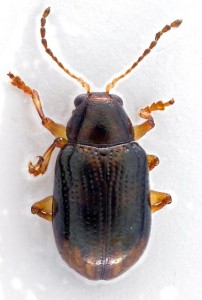 Images from bugguide.net
So now this is my routine: Go outside with a headlamp once it gets dark, examine every inch of the strawberry plants, get bit by mosquitoes, collect beetles, rant upon returning indoors. Repeat 3-4 more times before bed.
This is the majority of my haul over the last three nights. I left one vial outside and they baked in the sun. Not sorry.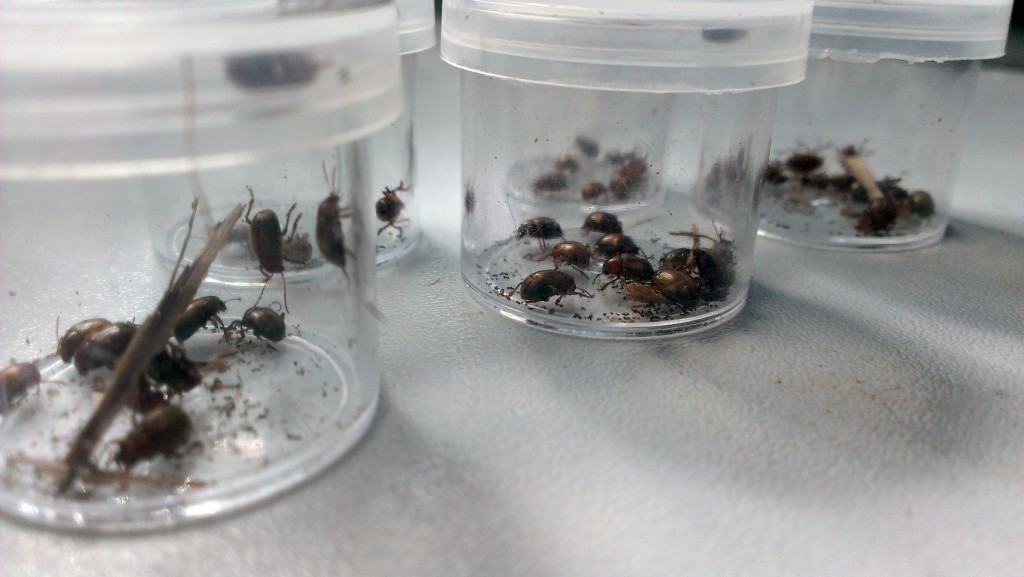 The first night I came back with over fifty. Subsequent nights have had massively reduced yields, thankfully. They will attack other plants, but I have found them primarily on the strawberries. Sadly, they have been reduced from something about half as large as this:
To (there are [were] THREE strawberry plants here):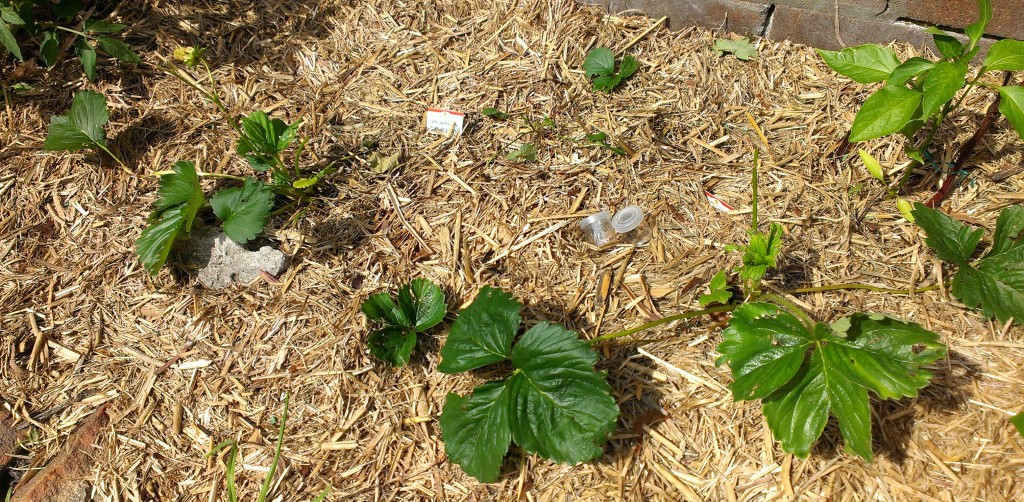 &#(%&
I'm certain two out of the three will live, but I'm not expecting any more berries this year.
Conclusion? In the future, plant strawberries in containers using potting soil. In lieu of going back in time, however… well, none of the websites I've found suggest any treatments other than "give up, replant next year at least 300 feet away."
Je refuse! We will carry on, little berry plants, and see what we might accomplish!
Let's all toast to the stubborn drive to spend at least one hour with the skeeters each night hunting bugs. They are going DOWN. At least I get to find things like water-toting spiders!